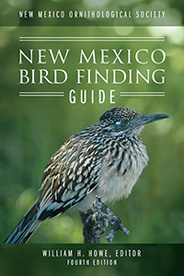 New Mexico Bird Finding Guide
Fourth Edition, Dec. 15, 2021
By William H. Howe, editor
Published by Outskirts Press
Completely updated with new content and detailed new maps. The book is available on Amazon.com and also on the author website at Outskirts Press for 10% off.
The primary authors are John Parmeter, Sandy Williams, and Bill Wittman. Bill Howe served as editor, Pat Mehlhop created the maps, Sandy Williams wrote the annotated checklist, and Nancy Hetrick developed the index and assisted with final edits. The book has full color photos by Dave Krueper at the start of each region and line drawings by Dale Zimmerman throughout. Many other people contributed to the chapters.