The New Mexico Ornithological Society (NMOS) is pleased to announce the recipients of the 2013 NMOS and Ryan Beaulieu Research Grants. Each received $1000 to support their research on New Mexico birds.
NMOS Research Grant
Cole Wolf, University of New Mexico – The ecological significance of cryptic diversity in New Mexico Yellow-rumped Warblers (Setophaga coronata)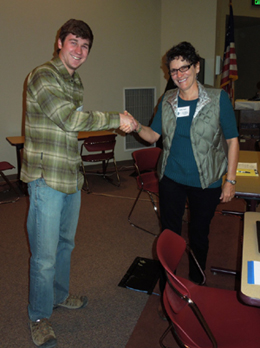 Recent studies of the Yellow-rumped Warlber complex have looked at genetic and morphological variation across the geographic range of the complex. This has revealed three distinct subspecies that share only two deeply divergent mitochondrial DNA haplotype clades. Nothing is known about the distribution of these clades relative to microhabitat, elevation, and functional morphology. New Mexico is an ideal location for studying these questions because the contact zone between the two clades spans several isolated mountain ranges in central and northern New Mexico. The objectives of the study are to study the functional, ecological and historical significance of cryptic mitochondrial DNA diversity in this species. As an example, one of the hypotheses proposed by Wolf is that warblers from the northern-distributed clade will be more tolerant of cold temperaturs and will occur at higher elevations and on cooler northern-facing slopes in comparison with the southern-distributed clade. Yellow-rumped Warblers will be collected from seven mountain ranges in central and northern New Mexico, including sites on both north- and south-facing slopes. The money from the NMOS Research Grant will support field travel expenses.
Ryan Beaulieu Research Grant
David J. Griffin, New Mexico State University – Demography and seasonal movement patterns of Band-tailed Pigeons in New Mexico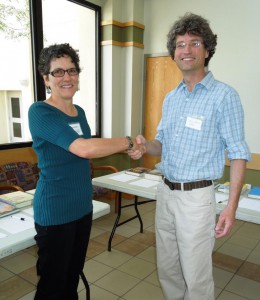 The Band-tailed Pigeon (Patagioenas fasciata) is a migratory species that inhabits montane forests and woodlands, making it difficult to study in these remote locations. Additional information on population status, demography, and seasonal movements is needed to inform management and conservation. The objectives of this project are to (1) provide reliable demographic data through banding and use of PIT tags (Passive Integrated Transponders); and (2) provide seasonable movement data using geolocators. This is part of a long-term program and they have identified three capture/banding sites across New Mexico. The project will be initiated at a rural residential site located 7.2 km north of Silver City, New Mexico. Geolocator data will be analyzed to reconstruct Band-tailed Pigeon migration routes and estimate winter locations. PIT tag data will be used to estimate survival probability and capture location fidelity. The money from the Ryan Beaulieu Research Grant will fund the purchase of geolocators.